Un super bolide avec une belle histoire (pedigree) comme je les aiment  

1 de 199 ZO6
1 de 63 ZO3 "tanker"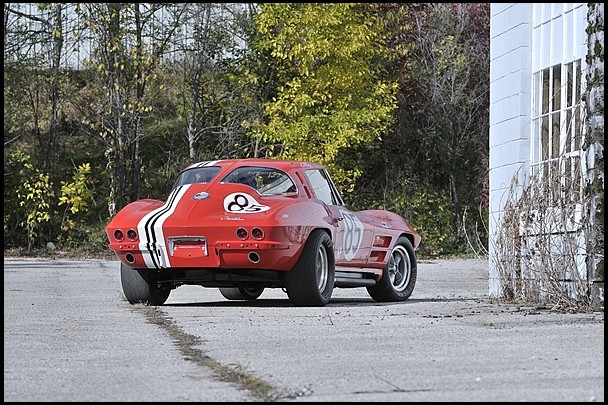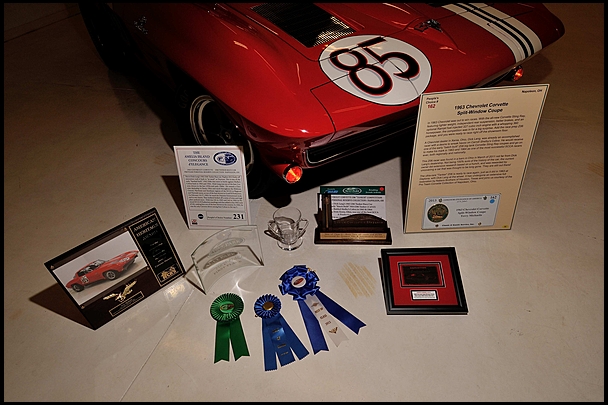 Mecum Auctions a écrit:When Chevrolet unveiled the all-new 1963 Corvette Stingray, Corvette was already the dominant force in Production road racing across the country. Beginning in 1956 Chief Engineer Zora Arkus Duntov had transformed the original fiberglass-bodied sports car through arduous testing and racing development, adding various new engines, suspension pieces and braking systems to the factory option list. With the new Stingray, Duntov finally assembled a mixture of special performance parts and Regular Production Options into a single package known as RPO Z06.

The Z06 was the answer to every serious Corvette racer's dreams, and among those welcoming its arrival was Xenia, Ohio Chevrolet dealer and sportsman racer Dick Lang. Driving his Red 1959 Corvette, the hard-charging Lang had raced throughout the Midwest, Central, Northeast and Southeast regions in SCCA events, quickly reaching regional and national status as one of the best drivers in A and B Production. By 1963, the young Lang openly aspired to win a national title and become a professional driver. He had finished 4th in SCCA A Production national standings in 1962, and the new Z06 appeared to be his ticket to the big time.

Lang took delivery of one of the first so-called "batch built" Z06 coupes. Like his earlier racers it bore brilliant Red paint, but most similarities ended there. The sleek and revolutionary new Stingray body was unlike anything seen on the road; beneath it was a brand new chassis sporting sophisticated independent rear suspension that vastly improved the Corvette's roadholding. The Z06 package added heavy duty front and rear springs and shock absorbers and a front sway bar; sintered metallic brake linings, heavy duty finned drums, forward-operating self-adjusters, brake cooling scoops and a Z06-exclusive vacuum-powered dual circuit master cylinder. Power was supplied by the race-proven and incredibly potent 327/360 HP small block engine with Rochester fuel injection and the famed solid lifter "Duntov" cam. One of just 199 built, Dick Lang's Z06 was also one of only 63 supplied with the RPO N03 36 gallon fiberglass fuel tank.

Lang and his sparkling new Riverside Red Z06 coupe entered the 1963 season with two races in February at Bill France's Daytona International Speedway, finishing 7th in the American Challenge Cup qualifying race on Sunday, February 10 before failing to start in the 250-mile race on the following Saturday; the pair made the front page of the Daytona Beach Evening News with an above-the-fold color photograph of Lang and his Corvette, at speed on the Daytona banking, that is now part of the car's extensive documentation.

So began a series of wins and spirited finishes that once again propelled Lang to prominence in the SCCA's National Championship chase.

On April 7 in the SCCA National Championship opening race at Marlboro, Maryland, Lang finished 2nd behind Dr. Dick Thompson in the Gulf Oil-sponsored lightweight Corvette Z06 entered by Grady Davis.

After a DNF at Virginia, it was on to Cumberland on May 12 and a record number of entrants comprising some of the nation's top cars and drivers. The event served notice that a new threat had emerged in big-league Production racing in the form of Carroll Shelby's awesome Cobras. Veteran sports racer Bob Johnson pressed the point home on the very first lap when he pulled away from Dick Thompson's lightweight Stingray coupe, never to be challenged again. Much to the annoyance of the many Corvette supporters in attendance, Johnson and his 289 Cobra lapped every Corvette in A Production but one: Dick Lang's #85.

Podium finishes at Grayling and Mid-Ohio and an outright win at Lynndale Farms once again culminated in a 4th place finish in the SCCA National Championship standings for Dick Lang and his Z06, one of several Corvette entries set adrift by Chevrolet's untimely official withdrawal from competition. Shelby's Cobra would soon eclipse Duntov's beloved Z06 as the car of choice in SCCA, USRRC and FIA International Production competition. While independent stalwarts such as Lang pressed on without factory support, the lightweight entries of Dick Thompson and Grady Davis had Gulf Oil's considerable resources (not the least of which was a huge multi-dynamometer engine testing facility) to help them along, a confluence of forces that made Dick Lang's achievements that year all the more impressive.

The Cobra's allure proved irresistible to Lang when he was invited to drive George Reed, Jr.'s Black #19 roadster at the 1964 Sebring season opener, but misfortune struck when the fuel tank began leaking before Lang's scheduled first stint and retired the car.

Lang then reactivated the Z06 for the April 12 Marlboro Raceway President's Cup, where he finished 4th, leading the Corvette contingent behind the top-finishing Cobras of Charlie Hayes, Harold Keck and Daniel Gerber.

The SCCA Nationals at VIR proved one of the most exciting events of the year for A Production racers and fans alike. Undaunted by the Cobras, Lang leapt out to the front of the pack and led for the opening laps, but he over-revved the engine in that opening dash, taking the edge off the high strung small block and forcing him to give way to Mark Donohue and others as he dropped back. The Cobras overwhelmed the field, but unfortunately the race did not end for Lang at the checkered flag. He had modified the rear wheel wells of his Z06 to accommodate huge new racing Goodyears and was disqualified after a protest from the Cobra contingent. Lang later filed a counter-protest as the Cobras had used identical tires, and the matter was resolved when the two parties agreed to eschew further shenanigans for the remainder of the season.

Lang's clashes with the Shelby juggernaut continued as the season progressed, producing memorable contests that captivated fans and often overshadowed the headline events. He prevailed against the Cobras one more time on June 14 at Mid-Ohio, where he jousted with independent Bob Johnson before taking a well-deserved A Production win. His final race of the season at the inaugural Riverside American Road Race of Champions ended when he crashed the Z06, but not before impressing the West Coast crowd with his withering attacks on the works Cobras on that famous high-speed road course. Consistency once again paid off, this time with a 3rd place finish in the SCCA National A Production Championship. He was the only Corvette driver in the top five, the rest of whom raced Cobras.

Dick Lang and the Z06 returned to Ohio after Riverside. He withdrew from racing for the next three years to fight a dispute with the IRS, eventually winning a judgement that also favored dealers across the country by upholding the use of demonstrator vehicles by family members. Lang sold the Z06 to his barber, who restored it over the next fifteen years to street use, including reinstalling the strip of fiberglass Lang removed from the rear window to run it as a 1964 model.

Terry Michaelis of ProTeam Classic Corvettes discovered the car in the summer of 2011 while investigating another vintage Corvette race car. After extensive research Michaelis, Franz Estereicher and the NCRS/GM Documentation Service positively confirmed its origins as the Dick Lang Z06 Tanker race car; it was then transported to Houston for a complete restoration by the renowned Nabers Brothers at a cost of $240,000.

The Dick Lang 1963 Corvette Z06 Tanker Split Window Coupe was reintroduced to the world with an honored place in the Corvette Nationals Competition Corvette display in November 2012. In 2013 it was displayed at no fewer than four prestigious Concours d'Elegance, scoring numerous honors including Best in Class at the Dayton Concours d' Elegance in September and Best in Class, First Place and the Special Display Award at the 36th Annual Ault Park Concours d'Elegance of America in July.

Perhaps most significantly, it has also won the National Corvette Restorers Society American Heritage Award "For the preservation of a historically significant piece of Corvette history", an elusive prize shared by an exclusive club now numbering just 36 members, cementing both car and driver as milestone figures in Corvette's quintessentially American story.

Cette pièces d'histoire sera mise aux enchères le 25 janvier prochain , changera t-elle de main ? Et si oui pour combien ....?  À suivre !  

http://www.mecum.com/auctions/lot_detail.cfm?LOT_ID=FL0114-174276&utm_source=emv&utm_medium=email&utm_campaign=FL0114-S148
_______________________________________________
Donald
- C'est parti pour une nouvelle Tribune  !!!

Dès le 1-6-18
Fondateur




Ville/Région

: Beauce Nord


Nombre de messages

: 6512


Date d'inscription :

01/10/2004


Voiture(s)

: Skylark Custom 1968



Légende





Ville/Région

: st-jean baptiste/east angus ,sabrevois;en transit


Nombre de messages

: 14350


Date d'inscription :

15/11/2007



C'est beau ça!
Cette génération de Corvette, j'adore!
Vétéran





Ville/Région

: Val-d'Or, Québec


Nombre de messages

: 1291


Date d'inscription :

24/09/2008


Voiture(s)

: Dodge Challenger R/T Classic 2011




---
Permission de ce forum:
Vous
ne pouvez pas
répondre aux sujets dans ce forum